Cisco Meraki cloud-managed IT is built for the demands of modern school districts, from managing office or classroom networks, to streamlining standardized testing and everything in between.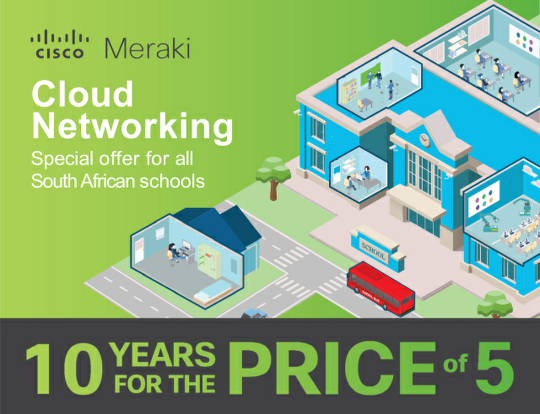 10 Years for the price of 5
Schools are under constant pressure to look for the most low-cost networking options. This often leads to solutions that appear affordable upfront, but with hidden costs with years to come. As a school, you are often left unsure whether your network is secure, regularly updated, and delivers the security needed for a safe learning environment.

Cisco Meraki Cloud Networking addresses all these challenges with a 10 year for the price of 5 Meraki Cloud Networking platform license. Have peace of mind that your network is always updated and upgraded, and that your systems are future proofed. There will be no hidden support, software upgrade or update charges for the next 10 years. Rest assured that your network is protected by Cisco, a market leader in cloud networking and that you will be supported by Jurumani Cloud Solutions. Africa's most experienced Cisco Meraki partner.

Cisco Meraki offers a simple, complete networking solution that provides everything from reliable Wi-Fi, to network and physical security, and endpoint management. Meraki can be configured and installed in a matter of minutes and managed remotely from an intuitive web-based dashboard, from any internet connected device, anywhere in the world.

Ensure reliable Wi-Fi to support teaching tools and technology. Reduce interruption to learning with unparalleled visibility and control over the network. Proactive security features ensure harmful content is blocked and protects the school's data and the content users consume. Whether you have one building or a 100, the Meraki cloud-based dashboard provides complete visibility and control and allows you to manage the entire network with just a click of a button.